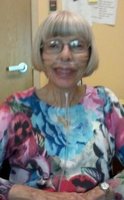 Carol P. Wagner
Carol Wagner, a resident of Jacksonville, Florida passed away on Saturday, February 3, 2018. She was 83. The daughter of the late Arthur and Sarah Strassman, Carol was born in the Bronx, NY
Carol spent her summers in White Lake, NY where she met her beloved husband, David Wagner. The couple was married for over sixty-five years. The two first resided in Ithaca, NY where Carol worked at Cornell University, while David finished his college education. As part of their working career; David, Carol and family traveled and lived in several countries including Israel, eventually returning to Sullivan County. Finally, work brought them to Jacksonville, Florida, where they have lived for the past thirty-eight years.
Carol is survived by her beloved husband; David, as well as their children; Bruce, Neal and Stacey, and her grandchildren; Arielle, Cassie and Shayna.
Carol was pre-deceased in death by her son; Wayne.
Carol is remembered as "a fine wife, mother, grandmother and David's best friend."
A graveside funeral service will be held on Thursday, February 8, 2018 at 2:00PM at the Congregation Temple Beth-El Cemetery, Route 17B, Bethel, NY.
Funeral arrangements are under the direction of the Joseph N. Garlick Funeral Home - Monticello; to leave a condolence for the family please visit www.josephngarlickfuneralhome.com.