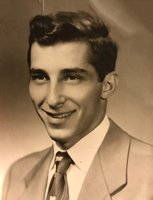 Gary I. Cooper
Gary I. Cooper was the second-born of William and Tillie Cooper's five children. He was born December 4, 1930 in Monticello, NY and grew up on Cooper Corners. He was a lifelong resident of Monticello. His warmth, wisdom, and wit will be missed by all who knew him.
As a child, Gary attended the Maplewood one-room schoolhouse, where he was self-admittedly a bit of a troublemaker. He graduated from Monticello High School in 1949. Gary went on to study at the University of Syracuse's College of Forestry where he met his wife of 61 years, Peggy, at the local roller skating rink while taking a break from finals.
After college, Gary served three years in the U.S. Army. In 1955, he and Peggy wed on Cooper Corners. Gary enjoyed working at William Cooper & Sons, the family sand and gravel business, for many years. His brother Larry and he eventually took over the business and grew it, renaming it Gala Sand & Gravel. Gary's oldest son, Matt, worked alongside his father and uncle at Gala in "the Valley."
Survivors include: his loving Wife, Peggy, Brother Larry and Sister Bonnie, his two sons Matt (Angela) and Greg (Mary), four grandchildren Christine, Theresa, William, and Sean, and one great-grandson, Gabriel.
Gary was predeceased by brothers Mort and Allen.
A celebration of life his will be held by the family at a later date.
Funeral arrangements under the direction of the Joseph N. Garlick Funeral Home Inc. - Monticello; to leave a condolence for the family please visit www.josephngarlickfuneralhome.com.