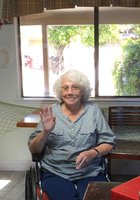 Ruth Artig
Ruth Artig, of Vacaville, CA, formerly of New York State passed away on Thursday, August 17, 2017 at the Kaiser Permanente Vacaville Medical Center in Vacaville. She was 91. The daughter of the late Harry and Fanny Fischer Frogel, Ruth was born on May 8, 1926 in New York City.
A graveside funeral service will take place on Thursday, August 24, 2017 at 1:00PM at Beth Israel Memorial Park, US Highway 1 North, Woodbridge Township, NJ 07095 with Rabbi Simcha Zajak officiating.
Funeral arrangements under the direction of the Joseph N. Garlick Funeral Home Inc. - Monticello; to leave a condolence for the family please visit www.josephngarlickfuneralhome.com.