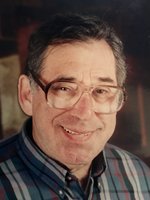 Joseph "Jo Jo" Slayton
Joseph Slayton, 91, a longtime resident of Monticello and owner of Slayton Studio, died peacefully at home on August 28, 2017 surrounded by family and friends.
Joe was born in Brooklyn, New York, and loved telling stories of growing up in the 1930s and 40s. He joined the Navy at age 18 and was a proud Veteran of World War II serving as a Radioman in the South Pacific. After the war, he traveled to countless towns and cities across the country taking baby pictures, living in an Airstream trailer which he equipped to develop and print the photos. Upon returning to Brooklyn he opened a portrait studio and soon thereafter he met Joyce, his wife of 59 years.
After establishing a fine reputation as a portrait photographer, Joe and Joyce escaped the bustle of city life and settled in Monticello. Joe opened Slayton Studio in 1958 concentrating on family portraits, weddings, family events, summer camps and high school yearbooks, later expanding the business to include nursery schools and daycare centers. Under his creative leadership and inspired by his persona "Jo Jo The Clown", Slayton Studio expanded its presence throughout the Northeast and Mid-Atlantic regions. Over the years, Joe trained a legion of excellent photographers and employed many wonderful office staff to produce decades of beautiful memories for hundreds of thousands of families.
When he was not happily running his business, he loved to travel. He was proud that a poor youngster from Brooklyn, who grew up during the Depression, was able to travel all over the U.S and the world. He was an avid lover of sports, particularly football, and he loved good food and had a prodigious appetite. Joe had a great sense of humor, was an artful storyteller and had a lifelong passion for history. Joe was a generous soul and opened his heart to the poor and needy. He was a member of Temple Shalom, The Jewish War Veterans, supported many charitable organizations and was beloved by all who knew him.
Joe was a loving, kind and proud husband, father, grandfather. He is survived by his adoring wife Joyce, sons Val W. Slayton and Todd B. Slayton, and granddaughters Thera S. Slayton, Aliya J. Slayton, Rachel E. Slayton and Sarah L. Slayton. Born originally as Joseph Slotnick, he is predeceased by his mother and father, Yetta and Morris Slotnick, and sister Florence.
Services will be held on Wednesday, August 30, 2017 at 12:00 noon at the Joseph N. Garlick Funeral Home Inc, 388 Broadway, Monticello, NY 12701. Burial will immediately follow at the Temple Shalom Cemetery, South Woods Road, Monticello.
The family requests that you please do not send flowers and instead consider a donation to Temple Shalom (Monticello), The National Kidney Foundation or Hospice of Orange & Sullivan County.
Funeral arrangements under the direction of the Joseph N. Garlick Funeral Home Inc. - Monticello; to leave a condolence for the family please visit www.josephngarlickfuneralhome.com.