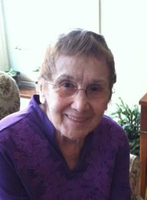 Jeanna (Janette) Belkin Klein
Jeanna Klein (Belkin) 93, Died peacefully in Manhattan with her family present on Dec 18, 2017. Her career in the theater spanned several decades as a dancer, dance teacher and stage manager. She served Actors Equity for over 50 years as Council member, Chorus Vice President, and as Chair of the Pension and Health Trustees Fund for over 40 years. She mentored and inspired countless younger Union leaders and dedicated her life to improving the lives of her fellow theater professionals. At the age of 60 she received a Masters in Labor Relations and worked for 20 years for the Port Authority Union, retiring at age 80. Her life was filled with music, dance and the theater. She believed fiercely in social justice and was active in the labor, civil rights, and anti-war movements.
She is survived by her daughter Karen Klein (Wayne Lencer), her grandchildren Ezra Lencer (Abbey Numedahl) and Riva Lencer (Matt Higger) and 'adopted' son Maurice Ford (Angie Ford), who are proud to carry on the values by which she lived.
A memorial is planned for February, contact info karenkleine@gmail.com.
Donations may be sent to Actors Equity Foundation (actorsequity.org), Actors Fund (actorsfund.org), Equal Justice Initiative (EIJ.org) or Georgia Innocence Project (georgiainnocenceproject.org)
Funeral arrangements are under the direction of the Joseph N. Garlick Funeral Home - Monticello; to leave a condolence for the family please visit www.josephngarlickfuneralhome.com