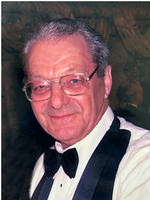 Morton R. Cohen
Morton "Morty" "Pop Pop" Cohen, 88, of Monticello entered into eternal rest at Orange Regional Medical Center on July 25, 2018. He graced the Earth with his presence on April 12, 1930 in Brooklyn, NY and was born to Mildred and Elias Cohen. He attended the University of Chicago before serving in the military from 1950-1953 and later attended Union College. He was a member of the Jewish War Veterans of the United States of America. Morty married the love of his life, soul mate and best friend, Marilyn Melnick (Cohen) on March 11, 1959.
Morton was a mechanic up until his 88th year and managed his own garage for more than 50 years, however, to Morty the garage was so much more than a repair shop- it was simply a location to welcome old friends and meet new ones, to learn and teach so many valuable lessons and to spread positivity.
While Morton was a garage owner and a diesel truck mechanic, to those that knew him as "Pop Pop", he was a hero, a teacher, a best friend, a comedian, a philosopher and the epitome of an honest man. He was a true "go with the flow" soul and his happiest days were spent with his wife, children and grandchildren. Pop Pop was a constant reminder to stay focused on the things in life that matter and to never get caught up in trivial commotion.
To know our Pop Pop was to love him. It is rare that in 88 years of life a person could cross no man, but Pop was a lover. He cared not for inanimate objects, money or clout, but for health, happiness and contentment.
Pop Pop was the patriarch of an extremely close, humorous, tight-knit family who owes him more than he will ever know for instilling the love of each other within them. He will live on through countless memories and stories recounted by his survived loved ones: his wife Marilyn Cohen of Monticello, brothers George and Bernard Cohen of Smallwood and sister Marilyn Cohen of Marina del Ray, Ca; son Mitchell Cohen and wife Connie Cohen, of Clarks Summit, Pa, daughter Elizabeth Cohen and husband Evan Teitelbaum of Parkland, Fl and his 4 grandchildren Marci Cohen Zeiler and husband Greg Zeiler of Moscow, Pa, Lindsey Cohen and Jared Cohen of Clarks Summit, Pa and Hailey Teitelbaum of Parkland, Fl. Also surviving are the many people Pop Pop has touched with a helping hand, an upbeat story or a loving piece of advice, as well as multiple close friends who were always right by his side and treated him like a brother. He was preceded in death by his parents, Elias and Mildred Cohen and is also now reunited with his beloved son Marcam.
The family would like to send a heartfelt thank you to Dr. Alexander Fruchter who cared for our beloved Pop like he was his own and described him, even in sickness, as "perpetually positive".
In lieu of flowers, the family asks that a donation be made to the Leukemia and Lymphoma Society and also asks that you take a moment to see the world from Pop Pop's perspective. We ask that you look to see the good in each and every person you encounter, you worry a little less and enjoy a little more, spend time with your loved ones and learn something new and never, ever "sweat the small stuff".
A funeral service will take place on Sunday, July 29, 2018 at 11:00am at the Joseph N. Garlick Funeral Home, 388 Broadway, Monticello, NY 12701 with Rabbi Simcha Zajak officiating. Burial will immediately follow with full military honors at the Landfield Avenue Synagogue Cemetery, Old Thompson Road, Monticello.
The family will be available for Shiva calls at Pop Pop's home on Sunday July 27th and Monday July 28th.
Funeral arrangements are under the direction of the Joseph N. Garlick Funeral Home - Monticello; to leave a condolence for the family please visit www.josephngarlickfuneralhome.com