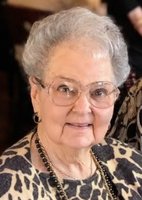 Sidelle ""Mimi"" Frogel
Sidelle "Mimi" Frogel of Liberty, New York, formerly of both Forest Hills and the Bronx, New York, passed away on Friday evening, December 14, 2018 at Catskill Regional Medical Center, Harris, New York, as a result of post-surgical complications following a fall in her home. She was 90.
The daughter of the late Abraham and Rebecca Ast, she was born on November 2, 1928 in Manhattan, New York.
Mimi worked in Manhattan as an administrative assistant and she retired when her grandson was born, so that she could fulfill her true calling as a loving and ever present grandma. In addition to being a protective and concerned mother, Sidelle was a hardworking homemaker and a loyal caregiver.
Survivors include Seymour, her beloved husband of 70 years, her devoted daughter, Karen Kaner of Parksville, New York and the true love of her life, her globetrotting grandson, Austin Schneider-Kaner. She is also survived by her sister and brother-in-law, Carol and Harold Herzlich of Las Vegas, Nevada, her brother-in-law and sister-in-law, Carl and Dorothy Frogel of Yorktown Heights, New York, Austin's father, Elliott Schneider of Parksville, New York and many nephews, nieces and dedicated lifelong family friends, especially Gabriel and Rita Grumer of the Bronx, New York and Bernard and Heidi Kaner of New York City.
In addition to her parents, Sidelle was pre-deceased by her son, Alan David Frogel and her sisters-in-law and brothers-in-law, Jean "Luba" and Harry Dardick and Ruth and Norman Artig.
A funeral service will take place on Tuesday, December 18, 2018 at 10:00am at the Congregation Ahavath Israel Synagogue, 39 Chestnut St, Liberty, NY 12754 with Rabbi Simcha Zajac officiating. Burial will follow at approximately 1:00pm in the family plot at Beth Israel Memorial Park, Route 1, Woodbridge, NJ.
Memorial contributions in Sidelle's name may be made to the Liberty Public Library Building Fund, Liberty Professional Plaza, 111 Sullivan Avenue, Suites 1-3, Ferndale, New York 12734.
Funeral arrangements are under the direction of the Joseph N. Garlick Funeral Home - Monticello; to leave a condolence for the family please visit www.josephngarlickfuneralhome.com.