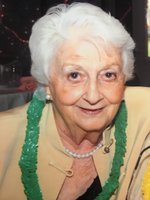 Pearl Elizabeth "Wyde" Madnick
Pearl Madnick, a long-time resident of Monticello passed away on Tuesday, March 12, 2019 after a long and prosperous life. She was 92 years old. Pearl was born on December 12, 1926 in Port Arthur, Texas to Russian immigrant parents Isidor and Jenny Wyde.
After the Great Mississippi Flood of 1929, the family lost their dry goods business and headed north to Alabama where they started a salvage company. Unfortunately after the great depression hit they were forced to head north for better opportunities.
The family ended up in Monticello, NY and started a lumber business that is still a prominent business in the community today, Wyde Lumber.
Initially Pearl stayed with her Aunt Mary in New York City until the business was up and running. At that point Pearl and the rest of her immediate family worked together to help build Wyde Lumber. Pearl attended and graduated from Monticello High School and went on to attend SUNY Hartwick College. During those years she met and married the love of her life, Wallace Madnick. They were happily married for 60 years before Wally's passing in 2008. During their life together they raised five children, and after the kids were grown, Pearl went back to SUNY New Paltz and earned a Master's Degree in Education.
She will be deeply missed by all family and friends who knew her.
Left to cherish her memory are her five children;n Sherri (James) Collins, Herman Madnick, Alan (Jil) Madnick, Cynthia Martin and Jesse Madnick, Her in-laws; Harris Madnick, and Eugene and Lenore Weinstein, son-in-law; Samuel Martin, daughter-in-law Catherine Sagnis and Susan Madnick, best friends; Angel and Lorraine Sanfeliz, and finally her 13 grandchildren; Benjamin, Sarah, Austin, Brooke, Noah, Daisey, Harry and Avraham Madnick, Jordan, Joshua, and Jacob Martin, Brian and Shawn Collins, and her great-granson, Sora Eli Hall.
Besides Wallace, Pearl was predeceased by her parents, brothers; Leon and Sydney Wyde, and her in-laws; Herman and Dorothy Madnick.
A funeral service will be held on Sunday, March 17, 2019 at 10:30am at the Joseph N. Garlick Funeral Home, 388 Broadway, Monticello, NY 12701 with Rabbi Marcus Rubenstein officiating. Burial will immediately follow along-side her beloved husband at the Temple Sholom Synagogue Cemetery, South Woods Road in Monticello.
Shiva will be held at the families' home on Starlight Road in Monticello after the burial is complete.
Memorial contributions in Pearl's name may be made to the Tevor Loughlin Foundation, 492 Old Sackett Road, Rock Hill, NY 12775.
Funeral arrangements are entrusted to the Joseph N. Garlick Funeral Home - Monticello; "Honorably Serving the Tri-County Jewish Community for 70 Years" 845-794-7474 or www.josephngarlickfuneralhome.com.