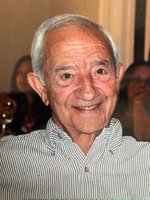 Armando Cubillas
Rock Hill, NY
Armando was born in New York City in 1925. Shortly thereafter, the family moved back to their native country of Spain where he was raised with his two brothers, Antonio and Franco in the farmlands of Asturias. He worked on his father's farm until he was a young man. He proudly served in the Spanish Military. He met his bride, Esther Sopena in his hometown. After they had their first son Joseph, they returned to America and lived in Brooklyn where he worked as a cement mason, building roads throughout the state. Esther and Armando purchased their first home in Brooklyn and lived the American dream where they raised their three sons, Joseph, George and Robert. In their retired years they became Floridian Snowbirds and purchased a condo in Boynton Beach. After Esther's passing in 1998, Armando went to live with George, Louise, and their children in Rock Hill.
Armando is survived by his firstborn son, Joseph, married to Doris, and their daughter, Melissa; his second born, George, married to Louise, and their children, Gina and Michael; his third born, Robert, married to Lisa, and their sons, Nicholas, Christopher, and James; and his Goddaughter, Jeanne, her partner, Columbo, and their son, Jonathan.
Armando lived a long and fulfilling life with a deep love for his family and friends both near and far. He will always be fondly remembered by all, as a warm and loving family man who was quick witted and always a gentleman. He loved spending time with his family and dear friends. He touched so many hearts. He will be missed dearly.
A private funeral will be held on Saturday, April 18th in Woodbridge NJ.
A Celebration of Life will be held for Armando at a later date.
In lieu of flowers you may make a contribution in Armandos honor to HeartsHomeUSA.org
Funeral arrangements are honorably entrusted to the Joseph N. Garlick Funeral Home - Monticello; 845-794-7474 or www.josephngarlickfuneralhome.com.