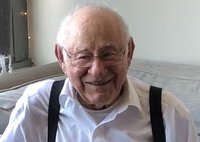 David L. Bakst
Saugerties, NY - Formerly of Liberty, NY
David Bakst passed away peacefully on December 22, 2020. He is survived by his wife Paula (Silberfarb) Bakst, his children Rochelle Bakst, Steven Bakst (Shari), Gary Bakst (Linda) and Doreen Fleischman (Darren), by his grandchildren Leah Bakst (Ben), Daniel Bakst (Beth), Laura Bakst and Jordan Bakst and by his great granddaughter Evelyn Bakst.
David was born to a loving family in Iwier, Poland and grew up in a happy home with his father Beryl, mother Rochel, brother Eliahu (Elie) and sisters Batya and Gussie. Their lives were turned upside down when first the Soviets and then the Nazis conquered their region of Poland during World War II. David experienced the loss of nearly everyone he knew but he and his father were able to assist Jews in the Iwier ghetto. He fought against the Nazis in the partisans and then was conscripted into the Soviet army fighting on the front lines until his unit met up with the American army at the very end of the war.
After the war, he met Paula Silberfarb in a displaced persons camp in Austria. Paula and her family would move to Cuba and David ultimately came to New York City where he had family. He started a new life there working his way up from pushing barrels of pickles to become the vice president of Mirobe Distributors and supervising a large and successful business. He married Paula in the central synagogue in Havana and then the couple lived in New York and raised four children.
David was particularly proud of the college education his children and grandchildren obtained having never had that opportunity himself. He was proud of his children and grandchildren for their successful careers. He learned the English language and American culture becoming a lifelong Mets fan. He had a keen interest in American politics and in the survival of the state of Israel.
David loved synagogue. He had a beautiful singing voice and would daven the prayers with feeling and love filling those in attendance with the same joy he found in the music. He was gabbai of the Century Pines Jewish Center in Pembroke Pines, Florida where he served on the temple board. He also participated in singing groups and performed many times in various venues.
Of all the Holocaust survivors, he was unique in his ability to find joy in life. He was devoted to his wife of over 70 years even as she became compromised by disease. And he received endless joy from his family. He was a kind and gentle soul beloved by many.
The family is so thankful to Inna Browne for the loving care that she provided David over these recent years.
Funeral arrangements are private.
May his memory be a blessing.
Funeral arrangements are honorably entrusted to the Joseph N. Garlick Funeral Home - Monticello; 845-794-7474 or www.josephngarlickfuneralhome.com.