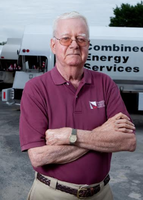 Walter Taylor Jr.
Monticello, NY
Walter K. Taylor, Jr, owner of Combined Energy Services in Monticello, NY passed away Tuesday, April 13, 2021 at his home in Monticello after a short illness. He was 84.
The son of Walter Kline Taylor, Sr & Carolyn Ball Taylor, he was born in Middletown, NY, November 5, 1936.
Walter grew up in Middletown, NY, graduated from Lehigh University with a Bachelors in Business Administration. After college, he attended Albany Law School. He worked two years for the Erie Lackawanna Railroad as locomotive fireman then moved to Monticello in 1963 where he went to work in the fuel business which he continued throughout his life. What started with a one truck home heating oil business from Walter & wife Patricia's home, grew to become Combined Energy Services, All Gas & Welding Supply Co, Tri-State Carbonation Service & Wechsler Pool Supply Co. He thoroughly loved coming to work and enjoyed the fast pace & great staff he surrounded himself with over the decades.
In his free time Walter was an avid golfer playing many years until he lost the use of his hands due to Dupuytren's Contracture. He would still attend occasional golf outings with his unwavering love of the sport & comradery with his friends. He came to work every day and on the weekends he'd tour the region checking company branch offices & visiting a wide array of friends scattered throughout the county. In his youth he developed a love for sailing and enjoyed competing on Wanakasink Lake.
Walter was predeceased by his sister Mae Ball Taylor. He was survived by Carol and brother-in-law Jeffrey Sohns, his wife Patricia, sons Michael (wife Joanna), Gregg (fiancé Colleen) & daughter Tracy and grandchildren Ross, Drew, Harly, Will & Teddy and close friends Carl, Alan, Gerry, Pete, Jamie & Holly.
In lieu of flowers, donations can be made on Walter's behalf to the Sullivan County SPCA: https://sullivanspca.org/
Private services will be held at family's discretion at a later time.
Funeral arrangements are honorably entrusted to the Joseph N. Garlick Funeral Home - Monticello; 845-794-7474 or www.josephngarlickfuneralhome.com.