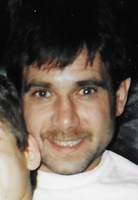 Israel Ira Zolchonock
Swan Lake, NY
Ira Zolchonock, a resident of Swan Lake, NY passed away on Wednesday, May 19, 2021. The son of the late Morris Solomon and Rose Zolchonock , Ira was born on March 5, 1960. He was born and raised in Liberty, NY.
Ira followed in his father's footsteps and entered the food industry as a kosher food distributor in Boston, Mass. After many years in New England, he returned to the Catskill Mountains, where he would remain. Ira, a car enthusiast, began his career in sales in the automotive industry. He had many interests that included car racing, motorcycling, and snowmobiling. His greatest passion was for his son, Sky.
Ira is survived by his son Marc Zolchonock, sister Jan Goldstein (pre-deceased), sister Helen and Husband Wallace Stone, nieces Denise Stone, Audra Stone and Nephew Keith Stone. He had 8 great nieces and nephews and several cousins.
A graveside funeral service will be held on Sunday, May 23,2021 at 12:00 noon at the Swan Lake Synagogue Cemetery, Hysana Road, Liberty, NY.
Shiva will be observed on Sunday following services at 5 Teddy Bear Lane Swan Lake, NY utill 7pm. On Monday, May 24, 2021, Shiva will be observed at 63 Garden Ct, Succasunna, NJ from 12:00 noon until 7:00pm.
Memorial contributions in Ira's name may be made to Catskill Animal Rescue (C.A.R.E) at 263 Old Monticello Road, Ferndale, NY 12734.
Funeral arrangements are honorably entrusted to the Joseph N. Garlick Funeral Home - Monticello; 845-794-7474 or www.josephngarlickfuneralhome.com.