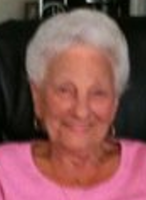 Ida Cohen
West Palm Beach, FL - Formerly of Woodbourne, NY
Ida Cohen, loving mother, mother-in-law, Grandmother, Great grandmother, Great-Great grandmother, Aunt, Great-Aunt, Great-Great Aunt, Great-Great- Great Aunt of West Palm Beach, Florida and formerly of Woodbourne, NY passed away on Friday, July 23, 2021 at her home at the young age of 98+1/2.
Ida was born on January 16, 1923 in Brooklyn, NY, the sixth of eight children to Lena and Morris Goldstein. At a young age, she married Nathan Cohen and had two children, Milton and Zena. Later on in the mid 50's, as a single mother, Ida and her two children moved from Brooklyn to Woodbourne. While working at Lebed's Luncheonette (later becoming Lebed's Pharmacy), she met the love of her life, Frank Cohen. They were married in April 1956 and made Woodbourne their home. Years later their son Alan was born.
Ida had many jobs throughout her life. Aside from being a wife and mother, she owned and operated Ida's Luncheonette until the late 1960's. She then worked for the old Sullivan County Community College, a concrete company and lastly, as a teacher's assistant for Head Start of Sullivan County in Woodbourne (a job she loved the most for her love for children was undying). Ida loved to knit, crochet, playing Bingo, Mah-jong, cook (known for her blintzes), and of course, spending time with her family (THE WHOLE FAMILY!) as much as her family loved spending time with her. Everyone wanted to go to Grandma's house or to Aunt Ida's (known as Dida to her nieces' and nephews') house.
Ida was the last member of the "Goldstein Era". She was predeceased by her parents, Morris and Lena, her six brothers and one sister, sister-in- laws: Benjamin, Alvin (Kay), Irving (Bertha), Anne (Irving), Arthur (Florence and Betty), Sidney (Marilyn), Morris (aka Buddy (Diane (aka Dinkey)), her son Milton (Sharon), daughter Zena Beth (Fred), as well as several nieces and nephews.
Ida is survived by her son Alan (Carla) of Monticello, eight grandchildren: Stuart (Lisa), Jeffrey (Laurie), Gary (Tracy), Aimee (Ken), Ira (Aimee), Michelle, David (Cynthia), Jeffrey and all their children (12 Great-grandchildren who referred to her as GG and Great-Great grandchildren) and MANY nieces and nephews, Great -nieces and Great-nephews, etcetera, etcetera!
Ida was laid to rest on Sunday, July 25, 2021 at the Woodbourne Synagogue Cemetery in Glen Wild, NY.
Funeral arrangements are honorably entrusted to the Joseph N. Garlick Funeral Home - 845-794-7474 or www.josephngarlickfuneralhome.com.