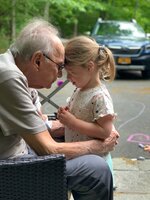 Kenneth Feldman
South Fallsburg, NY
Kenneth Feldman, who preferred to be called Poppy, passed away on September 17, 2021, at the incredible age of 92 years and almost 9 months. He and his best friend Jeanne Becker Feldman, who survives at their home, had just celebrated their 71st wedding anniversary. Ken was the son of the late Frank and Sylvia Feldman. He is also survived by his big sister Mimi Zausner and little brother Mel Feldman.
Amongst his many accomplishments were his children Jeffrey & Rona Feldman, David & Susan Feldman, and Susie & Keith Reardon, together with his grandchildren Justin & Stacey Feldman, Brandon & Katie Feldman, Ricki & Brian Klein, and Hallie Reardon and her significant other Joe Gregorio and his very special great-grandchildren Hayden, Madison, Skylar, James, and Jude.
Poppy spent his entire life living and working in and around South Fallsburg. As an electrician's electrician, he worked on and supervised many of the larger construction projects during the heyday of the Catskills, including many of the significant additions to the world-famous resorts, construction of Sullivan County International Airport and The Might M ---Monticello Raceway (his home away from home), where he was responsible for the entire electrical plant for over 30 years. During one major construction phase at Monticello Raceway, Ken's design of a novel component was written up in major national electrical journals.
He was a proud and lifelong member of the Fallsburg Fire Department, South Fallsburg Hebrew Association and IBEW Local 806.
The family would like to thank the many doctors who took such great care of Poppy over the last few years including Scot Selbo MD and especially Rafeel Syed MD, who with the angels at Davita Dialysis in Monticello, extended Poppy's life so that he could recently hold his 5th great-grandchild Jude.
Because of Covid and its wrath, funeral services will be completely outdoors on Sunday, September 19, 2021 at 2:00pm at the South Fallsburg Hebrew Association Cemetery, Marsh Road, Glen Wild, NY. Masks are required.
Memorial contributions should be made to South Fallsburg Hebrew Association P.O. Box 1089, South Fallsburg, NY 12779 and/or Hospice of Orange and Sullivan Counties at https://hospiceoforange.com/make-a-gift/ in Ken's memory.
Funeral arrangements are honorably entrusted to the Joseph N. Garlick Funeral Home - 845-794-7474 or www.josephngarlickfuneralhome.com.