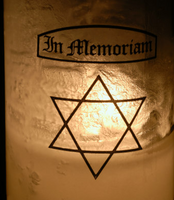 Arthur Weisfeld
Monticello, NY
Arthur Weisfeld, a resident of Monticello, NY, passed away on Monday, March 14, 2022, in Liberty, NY. He was 96. The son of the late Nathan and Celia Weisfeld, Arthur was born on April 25, 1925, in Zaklikov, Poland.
Arthur worked as a barber at Michael's Barber Shop at The Concord Hotel for over 30 years. He loved dancing and socializing with his friends and adored his grandchildren. Arthur is a survivor of the Holocaust and loved to talk to High Schools about his history.
Survivors include his son; Norman Weisfeld and his Wife; Colleen of Ellicott City, MD, grandchildren; Bradley Weisfeld and Sydney Weisfeld, his brother; Alex Weisfeld, nieces; Celia Tepper, Nancy Kranes and Elaine Emmer, and nephew; Victor Emmer.
Arthur was predeceased by his beloved wife; Gail Weisfeld in 2007.
A memorial gathering of family and friends will take place on Thursday, March 17, 2022, from 12:00pm to 1:00pm at the Joseph N. Garlick Funeral Home, 388 Broadway, Monticello, NY 12701. A funeral service will take place in the chapel at 1:00pm with Rabbi BenZion Chanowitz officiating. Burial will immediately follow at the Landfield Avenue Synagogue Cemetery, Thompsonville Road, Monticello, NY.
Memorial donations may be made to The United States Holocaust Memorial Museum by visiting https://donate.ushmm.org/6hRw6kqugUOvJLNKCIbD1g2.
Arrangements are honorably entrusted to the Joseph N. Garlick Funeral Home - 845-794-7474 or www.josephngarlickfuneralhome.com.