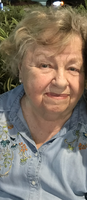 Sandra "Sandy" Katz
Boynton Beach, FL
Sandy Katz passed away on April 28, 2022, in Delray Beach, Florida, at the age of 82.
Sandy grew up in Parksville, NY, the daughter of Fay and Sam Gasthlater, owners of the Paramount Hotel. Sandy graduated from Liberty High School and received her undergraduate and master's degrees in education and French from the City College of New York.
Sandy met the love of her life, Henry, also from Liberty, through her brother Fred, with whom Henry served in the military. During a weekend pass, Sandy and Henry went on their first date. They were married for 60 years.
After they were married, Sandy moved back to Liberty to teach in the Liberty schools. After many years of teaching, Sandy became active in helping run Katz's Bake Shop, the family business. Three decades later and as empty nesters, Sandy and Henry moved to White Plains, NY where they started the next chapter of their lives. While in White Plains, Sandy was responsible for group sales at her family's Paramount Hotel. A decade later, Sandy returned to her teaching roots, as an Adjunct Professor at New York University, teaching classes in hospitality and tourism.
In addition to a busy professional career, Sandy's main love was her family. She was a devoted wife, mother, and grandmother and a loyal friend. She will be remembered for her wit, sense of humor, intelligence, open-mindedness, enjoyment of life, ability to light up a room, and sense of adventure. She and Henry and their friends and family travelled the world. Sandy had a gift for conversation – she could easily start talking with a stranger, find a connection, and make a friend for life. She was also a heck of a ping pong player.
Sandy is survived by her husband, Henry. Their children, Allyson Schlesinger (Jarrod) of Chappaqua, NY, David Katz (Sheri) of Westport, CT and Steven of Scottsdale, AZ, as well as six grandchildren, Amanda and Drew Schlesinger, Adam, Evan, Rebekah, and Josh Katz, who she adored beyond words.
Internment will take place at 10:30 a.m. on Sunday May 1, 2022 at Congregation Ahavath Israel Cemetery, Hysana Road, Liberty, NY. A funeral service will take place also on Sunday May 1, 2022 at 3 p.m. at Temple Beth El, 220 South Bedford Road, Chappaqua, NY.
Arrangements are honorably entrusted to the Joseph N. Garlick Funeral Home - 845-794-7474 or www.josephngarlickfuneralhome.com.