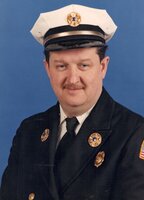 George T. Kelley
Monticello, NY
It is with deep sadness that we announce the passing of George T. Kelley, a life-long resident of Monticello. George left peacefully on Monday, May 30, 2022, following a long illness.
The son of the late George T. and Caroline Marie Kinne Kelley, George was born on September 8, 1946, at the Hamilton Avenue Hospital in Monticello. After graduating from Monticello High School, George went on to serve his country in the United States Army. Upon returning home, he began a career with the New York State Department of Transportation as Supervisor of the Sign Shop while also raising his two children.
Serving the community and others meant the world to George. He was well-known for his many organizational roles including Past Chief, Past Commissioner, Past Trustee and current Treasurer/Secretary of the Monticello Fire Department, member of the Hudson Valley Volunteer Firemen's Association, Past President and Director of the New York State Volunteer Firefighters Bowling Association, member of the Monticello Elks Lodge # 1544, as well as a member of the Monticello United Methodist Church.
In 2005 George joined the staff of the Joseph N. Garlick Funeral Homes. He was proud and would often brag about his position as the "official hearse driver." The families he served, and the funeral home staff became a second family to him, especially Tyler Murtie, whom he considered like a second son. Sadly, George was forced to retire in 2019 due to health issues.
George could often be found at Miss Monticello Diner chatting with the staff and patrons over a cup of coffee. He will be remembered for his love for both bowling and bingo, and his ability to fix anything.
Survivors include his partner and best friend, Roberta Yakin, daughter; Collene Kelley, son; Scott Kelley, grandchildren; Bennett and Olivia Lopez and Chaz Kelley; as well as several nieces and nephews. George is further survived by his former wife and mother of his children, Kathleen Kelley.
George was predeceased by his parents and one sister: Joanne Dubois.
Memorial visitation will be held on Saturday, June 4, 2022, from 10:00am to 12:00pm at the Monticello Fire Department, 23 Richardson Ave, Monticello, NY 12701. A memorial service will take place at 12:00pm at the firehouse. Burial with full military honors will immediately follow at the Sullivan County Veterans Cemetery, Sunset Lake Road, Liberty, NY.
In lieu of flowers, donations in George's memory may be made to the Monticello Fire Department, 23 Richardson Avenue, Monticello, NY 12701.
Arrangements are honorably entrusted to George's friends and colleagues at the Joseph N. Garlick Funeral Home - 845-794-7474 or www.josephngarlickfuneralhome.com.